Show your friends and family that you care deeply about them by sending them a Ed, Edd n Eddy themed email card. Its easy to do and they won't ever forget it. Just click the button below to begin.
Note: If the image appears to be pixelated it won't be in the final step. I tested it myself.


Affiliates


JBC 2005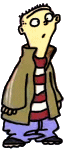 "I'm Ed and I approve the JBC"
The JBC is not affiliated to Cartoon Network or A.K.A. Studios in any way. The JBC is a non profit site and is only mantained for sheer entertainment. No infringement is intended.
The Jawbreaker Chronicleİ 2002-2006 All Articles are the original ideas of the staff members of the site. The creator isn't liable for any content taken by staff members. Please don't take our articles. If you would like to use one please email the Editor.