Top Stories
Edd's Recycle Business Fails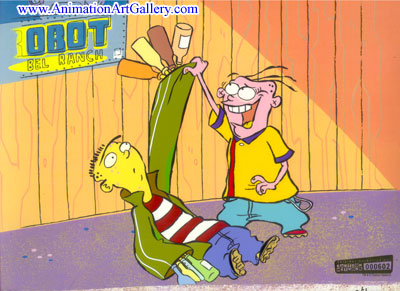 After finding many bottles in the dumpster Edd got the greatest idea of his life. He decided that he would make a recycling center for the entire neighborhood. After hearing this JBC was quick to find Edd the master of this idea.
(JBC): So Double-D do you think that this idea of yours will work?
(Edd): Yes I do as long as Ed and Eddy stay out of it.
This is Edd's first idea without having help from Ed or Eddy. For the first few days the JBC watched as Edd's business got under way. Even though he wasn't charging anything to have cans, bottles, paper, or plastic recycled he was still a very happy person.
(Edd): I just feel so happy that I can help the Culde-Sac out with something as small as recycling.
For days Edd's Business boomed until the other two Eds found out. After seeing his great contraption and the line of people waiting to recycle their junk Eddy came up with an idea.
(Eddy): We should charge people to recycle their garbage Double- D!
After the crowd found out that they were going to be charged to get rid of their trash the whole plan was ruined. Edd holds Eddy responsible for destroying his plan to clean up the Culde-Sac. Yet he still feels that it was destined to fail from the beginning like everything else that he does.
The Eds Attempt to Re-open Jawbreaker Bank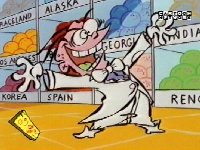 For awhile the Eds have been trying to get their Jawbreaker Bank up and running again. A new plan has been drawn up that the Eds think will work. When asked who started up the business again the Eds responded with this quote.
(Eddy) I decided that we should start building up the trust of the kids before destroying it after they give us their jawbreakers.
While Eddy plots to steal the culde-sac's jawbreakers Edd has been working hard on the vault itself. The Eds besides Eddy gave us permission to visit the Jawbreaker vault before the bank opened.
(Edd) Well as you can see we are going to have jawbreakers from all over the world and they will be labeled for quick reference.
From Alabama to New Zealand the Eds are prepared for great business. Each jawbreaker will be placed in its country's bin which will keep them organized. Our one question was how are you going to keep the jawbreakers from being stolen? Ed let us in on the security system that will protect these vast walls of sugar coated candy spheres.
(Ed) Imported from an armored truck from the International House of European Weiners I give you the anti-matter lock of the... Uh I forget what we are doing.
(Edd) What Ed is trying to say is that the security system is a highly dense structure made out of concrete with many locks.
Well we can obviously see that no one is getting into the bank and it looks to us that the Jawbreaker Bank will be a success.